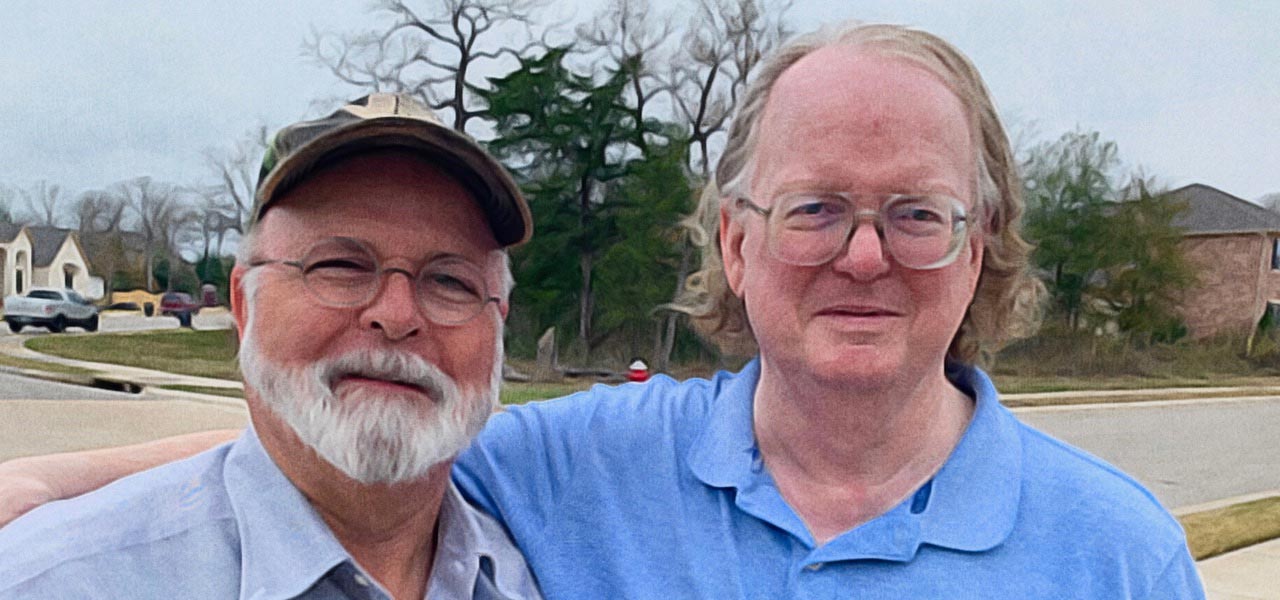 Any telling of the College Avenue story would be incomplete without the contributions of two noted local historians: Henry Mayo (above left) and Bill Page. In this section, you'll find contributions from both men keyed to a map of the College Avenue area. In addition, you'll find more stories and documentation pertaining to the milestones in the annals of this important roadway, as well as numerous slices from everyday life.
Meet Henry Mayo
Henry has called the Bryan/College Station area home his entire life. He grew up working for his father's surveying and engineering company, Joe Orr, Inc, which he leads today as part of Baseline Corporation.
Henry and his wife, Sandra, have been married 30 years and have two grown children and two grandchildren. They are members of St. Thomas Aquinas Catholic Church in College Station.
Although he works full-time, directing the surveying company, Henry spends much of his free time doing volunteer activities. He's active in a number or organizations, many of which are history related. Regarded as an expert on local history, Henry gives several presentations each year to local social and civic groups, writing a local history e-blast. He also produces a popular local-history email blast, and is co-author of a book about one of the first county sSurveyors of Brazos County.
Henry is chair of the Brazos County Historical Commission, past-president of the Brazos Valley Museum of Natural History, president of SPJST Lodge 189, adjutant of the Sul Ross Camp of the Sons of Confederate Veterans, ddjutant of the Col. Briscoe Baldwin Chapter of the Military Order of Stars and Bars, and immediate past-president of the El Camino Real de los Tejas National Historic Trail Association.
Nationally, Henry is the secretary of the Descendants of Mexican War Veterans, and an active member of the Surveyors Historical Society, often travelling across the country for their annual Rendezvous.
Meet Bill Page
Bill was born in Burkburnett, in north Texas, in 1953. His father owned a Western Auto Store, and his mother was a school teacher. From his dad, Bill learned the importance of honesty, reliability and customer service. He says his mother gave him a love of books and learning.
And from both his parents, he gained an understanding of the importance of loving people. .
Bill enrolled in Texas A&M in the fall of 1972, and graduated with a Bachelor's Degree in Psychology. He started working at Evans Library in February 1978, and remains there some 41 years later, a vital contributor to enhancing the knowledge of students, faculty, and the local community.
Bill is passionate about collecting, preserving and telling local history. "I hate ellipses in history," he says. "When I read something such as, 'The first Jewish settlers arrived in Brazos County in the 1860s, opening stores at Millican ... In 1912, they fulfilled a long standing dream by dedicating Temple Freda in Bryan,' I have an overwhelming need to learn the part of the story that was left out.
Bill has been a member of various local genealogy societies through the years, beginning with the now inactive "Brazos Genealogical Association." He served that organization as president. Now currently belongs to the Texas Research Ramblers.
He has been a member of the Brazos County Historical Commission for several years, and was a founding member of the Brazos Valley African American Museum, serving on its board for 16 years.
He sums up his philosophy concerning history like this:
"Celebrate our successes. Admit our mistakes. Strive to do better."
Supporting the Twin City Mission